St. Antonius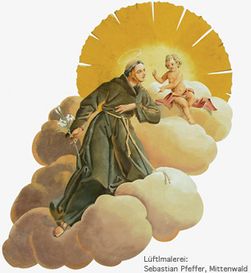 Hotel Tonihof, originally a forest-lodge was at its opening named after Saint Antonius,
Surely one of the most popular saints all over the world over he is mostly famous as patron lost property while his various other responsibilities: patron of Lisboa, Padova and other cities, as well as that of the poor, lovers, marriage, wives and children, bakers, miners, swineherds, travellers, of horses and donkeys – are hardly known.
He is also helpful with fertility-problems, devilish powers, fever, pest and cattle-plague, ship-wreckage and war-atrocities, finding of lost property, childbirth, ageing and successful harvest.
All the same he was no Bavarian!
As a child of wealthy parents he was born in Lisbon around 1195 p.c. and died on june 13 th of 1231 near Padova, while visiting the nons of Arcella!
Now, whether you believe in Saint Antonius (our Toni) or not: you will certainly be very well taken care of at the Tonihof!
Visitors, interested in handcrafted works representing the history of other popular saints in our country are recommended to read the " Heiligenlexikon", source of most of our statements.